Virtual Museum of Collections
Some people think that coin collecting began during the Italian Renaissance. However, Suetonius, in his "De Vita Caesarum" (The Twelve Caesars), tells us that the Emperor Augustus was fond of ancient and foreign coins, which he used to give to his friends.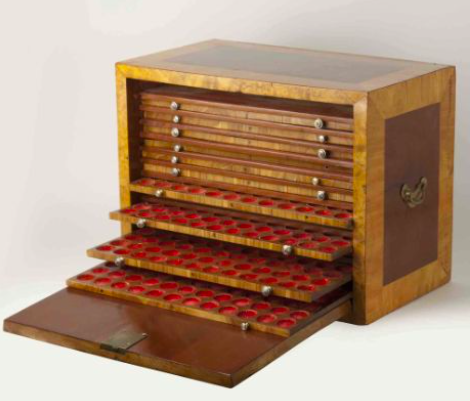 Coin collecting can also be found in the origins of museums. Cabinets of curiosities or Cabinets of wonder, "studiolos", and "kunst kabinett", went from being a thing of personal enjoyment to a service for society, to promote studying, education, and developing research pertaining to collectable objects.
Collection exhibits may not always be accessible. However, virtual media offers us dissemination possibilities that were until now unthinkable. This is where we find the value of virtual museums, making those collections that would otherwise not be enjoyed, available to everyone. In addition to that, virtual museums offer us a database with pieces that have already been cataloged, free access to coin pictures, search by different criteria, and even pieces in 3D format.
We here at We are numismatics, have placed value on private collections, and for this reason, we present this virtual museum, giving public access to private collections for all those who value their collections, not only from an personal enjoyment point of view but also to get back to the spirit of Museion:
<<Preserve, protect, captivate, investigate and educate>>
---
---
Use of images or pictures:
If you wish to receive images included in the Musaeum, at We are Numismatics, for representation without watermark, for research or non-profitable purposes, don´t hesitate to request them by filling out the Contact form.
How to correctly accredit images:
First of all whenever you want to include an image which is not of your own authorship you must insert the picture and correctly accredit it in the text. After, then add the reference to the original source in the footnotes and bibliography.
Reference schema:
-Surname, Initial. (year). Title of the article [Image type, example: fotography, ilustration, map]. In: Name of the website/blog [on line]. Avalaible in: URL.
Example:
-Museion, Colección Maristán (2021). Cuadrante de Belikio. [Fotografía]. En: We are Numismatics [en línea]. Disponible en: https://wearenumismatics.com/numismatica/coleccion-maristan/edad-antigua/hispania-antigua/cuadrante-de-belikio/
How to correctly accredit blog articles:
Reference schema:
-Surname, Name author, year. Title of the article/post. In: Name of the website/blog italics [on line]. Avalaible in: URL [date of consultation].
Example:
ROMA, Antonio, 2018. Literatura y Numismática en torno al Potosí de los siglos XVI a XVIII. En: We are Numismatics [en línea]. Disponible en: https://wearenumismatics.com/literatura-y-numismatica-en-torno-al-potosi-de-los-siglos-xvi-a-xviii/ [consulta: 4 de marzo 2021].
Citation in text:
Example: (Roma, 2018)