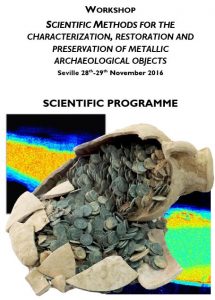 SCIENTIFIC METHODS FOR THE CHARACTERIZATION, RESTORATION AND PRESERVATION OF METALLIC ARCHAEOLOGICAL OBJECTS. Scientific Programme
Los días 28 y 29 de Noviembre se va a celebrar en Sevilla un encuentro internacional sobre métodos de análisis, restauración y conservación de material arqueológico de metal, poniendo especial énfasis en las monedas. En estas jornadas se darán cita especialistas de varios países para plantear las nuevas metodologías científicas en estas cuestiones.
Información: Programa científico en PDF (descarga)
Organiza: Museo Arqueológico de Sevilla y Universidad de Sevilla.
Lugar: Museo Arqueológico de Sevilla.
Fecha: Lunes 28 y martes 29 de noviembre, 2016
Acceso libre hasta completar aforo